Andre van Uehm - photography
Clear lines, colourful reduction & symbols of the cycle of becoming, being & passing away in the landscape photographs of Andre van Uehm.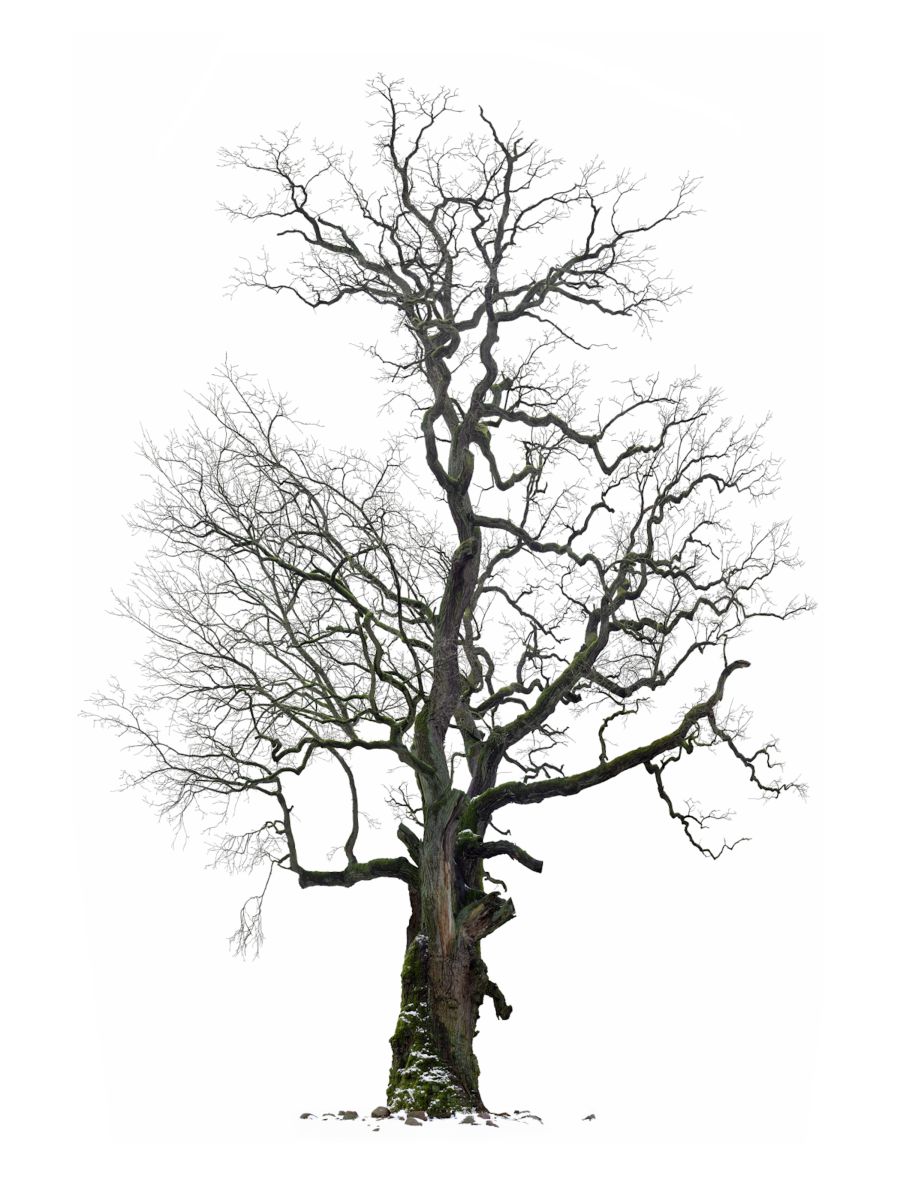 Andre van Uehm: Quercus robur, 2019, i. O. 175 x 130 cm ©2022 Andre van Uehm
Whether it's Ivenack oaks, seemingly endless fields, lonely swings or stony beaches - Andre van Uehm's photographic works focus primarily on capturing the beauty of a landscape in Mecklenburg that has been transformed by man. The artist, who was born in Gotha and lives in Mecklenburg, already sharpened his eye for detail in his first profession as a studied landscape architect. In his artistic work, he stages fleeting conditions as graphic compositions with symbolic content.
In the form of photographs, van Uehm takes a multi-layered approach to the landscape of his adopted home of Mecklenburg.
Cycles such as Nachhalt, Birken, Wege übers Land, Die Kraniche sind anderswo, and Play/Stop/Rewind show pictorial motifs detached from their respective surroundings. Partly reduced to monochrome colour at first glance, the photographs appear clear, filigree, and at times austere. In other photographic series, van Uehm is primarily concerned with the play of horizon and landscape lines. Here, the reduction of the spatial to graphic elements in the two-dimensional pictorial space comes to the fore. The views not only show landscapes designed by man, but also sensitively composed images.
Van Uehm's photographs are united by a certain graphic austerity, from which both tranquillity and melancholy emanate. Andre van Uehm's oeuvre contains motifs that seem familiar (not only) to connoisseurs of Romanticism. Motifs of loneliness, transience, but also of the eternal cycle of becoming, being and passing away - such as deliberately isolated gnarled old oaks. In the Romantic era, the latter in particular stood symbolically for eternity and for the associated perpetual cycle of life, death and resurrection. As Romantic artists did in paintings and drawings, van Uehm captures oaks with their sublime appearances in the cycle of Sustainability. However, these are not graphic ciphers of the tree species, but concrete individual specimens that the photo artist portrays as representatives.
His work processes are sometimes lengthy and testify to patience and care. Regardless of whether it is a matter of digital post-production workflows, with the help of which the cropping is done, or whether van Uehm plans exactly in which weather, which weather conditions and which lighting conditions he will photographically capture, even stage, a motif previously discovered "in passing".
The surrounding landscape has long since largely ceased to be a natural landscape, but a cultural landscape: designed by us humans to benefit us humans, and often to the detriment of the environment. In this awareness, however, the artist is not concerned with depicting negative interventions in nature or even an ecological catastrophe, but much more with preserving the peculiar beauty of landscapes shaped by human hands. This differentiated view of the Mecklenburg landscape, the influence of man and the almost unshakable beauty of nature distinguishes the artist and his works.
Text: Karl Mühlbach, editing: Caroline Barth
Andre van Uehm's landscape photographs can be viewed in the Caspar David Friedrich Center Gallery from July 3 to October 9, 2022.
The preview will take place July 2, 2022, at 5 p.m. at the Caspar David Friedrich Center.
CV Andre van Uehm
Andre van Uehm: Selbstporträt © 2022 Andre van Uehm.

— born 1963 in Gotha, Thuringia


— studied landscape architecture at the

Beuth-Hochschule in Berlin

— lives in Woserin (Mecklenburg) and Berlin-Prenzlauer Berg

— works as a landscape photographer, lecturer for photography and curator
Exhibitions (selection)
among others in:
- Aaarhus (DK)
- Berlin (D)
- Bremen (D)
- Caprino Bergamasco (I)
- Hamburg (D)
- Klempenow (D)
- Copenhagen (DK)
- Kummerow (D)
- Plüschow (D)
- Rostock (D)
- Schwerin (D)
- Wismar (D)

Works in public and private collections
among others in
- Photographic collection Kummerow Castle
- State Art Collection Mecklenburg-Western Pomerania
- House of International Tourism Rostock