Johanna Herrmann SPIELWIESEN
Johanna Herrmann is this year's winner of the Caspar David Friedrich Award. In addition to financial support, the award once again includes a special exhibition in our building. On October 22, the prize was ceremoniously presented to the artist at a vernissage and the exhibition entitled "SPIELWIESEN" was opened.

Johanna Herrmann works both sculpturally and painterly. The transition between these two genres is fluid to her work. Starting from the material, she brings it out of its original context of meaning into new contexts. The work process is characterized by the playful-experimental approach. She herself says: "The landscape serves as a starting point for my painterly/drawing and process-oriented projects. I use the forms and colors of the landscape to transform them into drawings or abstract paintings, or I make use of natural processes, such as the wind or the sun's rays for experimental explorations."
The artist is particularly interested in processes, movement, change, and engaging with the landscape that surrounds her. Herrmann develops experimental arrangements, sets processes in motion, and ultimately releases them from her control. Through this conscious loss of control, she leaves the aforementioned experimental arrangements to a natural process or simply to chance. The result thus remains open for the time being.
This approach is also visible in the exhibition, where, among other things, she allows the wind to act as a creative element on a canvas. Conceptually and at the same time playfully, she tests the uncontrollable as well as random effect of the various gusts of wind with a built wooden frame, painting utensils attached to threads, and fans placed all around.
Text: Karl Mühlbach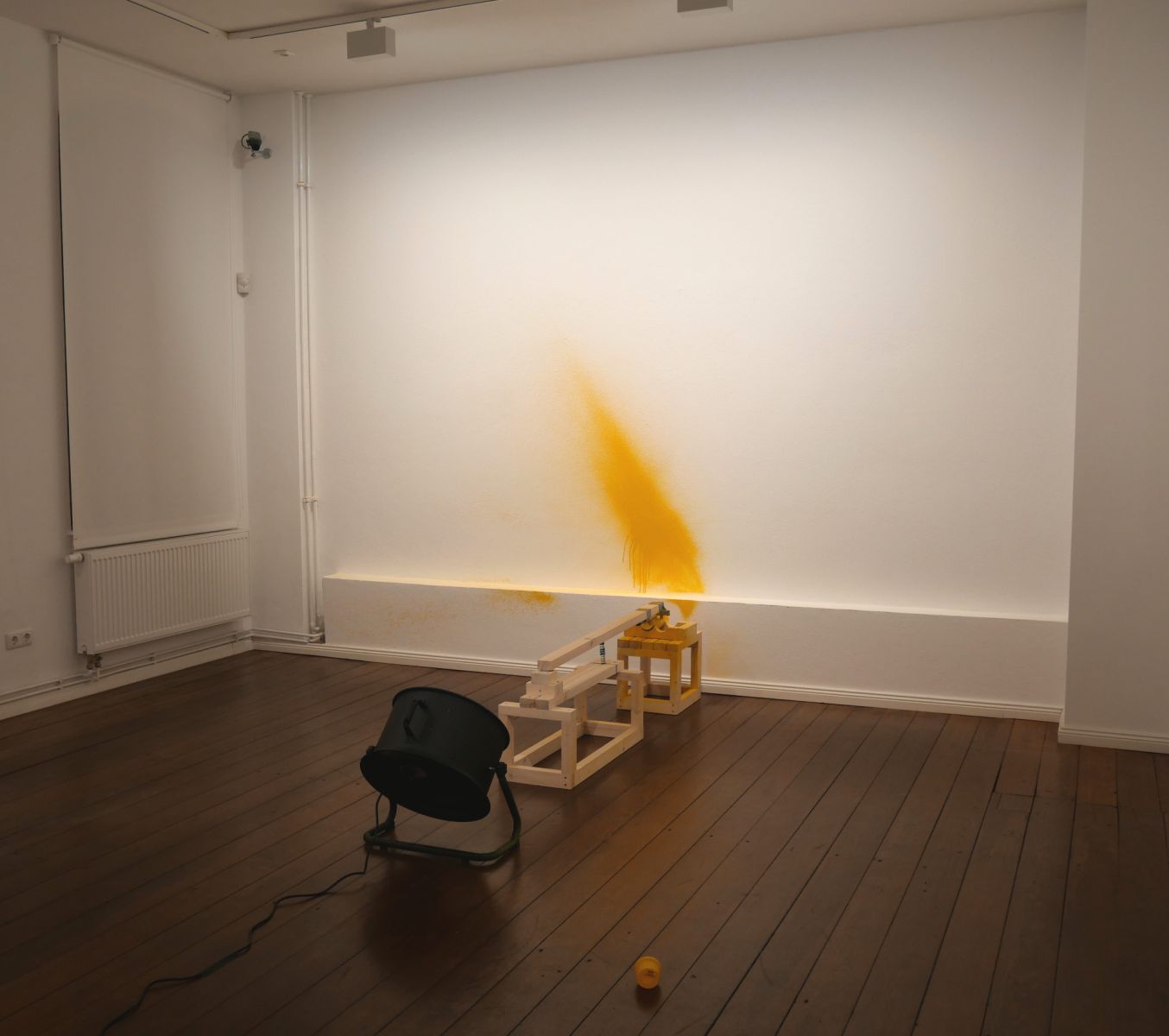 Johanna Herrmann: "chain reaction (yellow, yellow)", : Photo: Karl Mühlbach ©2022 Caspar-David-Friedrich-Gesellschaft e. V.
SPIELWIESEN by Johanna Herrmann can be visited in the period from 25.10.2022 to 23.12.2022, Tuesdays to Saturdays from 11 a.m. to 5 p.m. in the gallery of the Caspar-David-Friedrich-Zentrum. A 20-minute impulse guided tour (CDFZ_kontemporär) through the exhibition takes place every Wednesday from 2 pm. The vernissage of the exhibition took place on 22.10.2022 at 6 pm in the Caspar-David-Friedrich-Zentrum.


CV Johanna Herrmann
Johanna Herrmann ©2022 Johanna Herrmann

1998 born in Rostock

since 2017 studies of fine arts and philosophy (teaching profession) at the University of Greifswald

2020-2022 Scholarship holder of the MentoringKUNST Program, a project of the Künstlerbund Mecklenburg und Vorpommern e. V.

2021 Scholarship holder of the Summer School, residency at the art and media house FRIEDA23 Rostock

2022 Winner of the Caspar-David-Friedrich-Prize of the Caspar-David-Friedrich-Gesellschaft e. V.
Solo exhibitions
2022 SPIELWIESEN, Caspar-David-Friedrich-Zentrum, Greifswald
2021 Material & Eigenschaft, CUBIC-artspace, Kunstverein art-cube - Raum für
zeitgenössische Kunst e. V., Greifswald
Group exhibitions
Upcoming: VON WEGEN, Kunstverein Schwerin
2022 It takes two to tango, Künstlerhaus Dortmund
2022 Junge Kunst aus Nordeuropa, Neues Kunsthaus, Ahrenshoop
2021 b suche, Galerie Schwarz, Greifswald
2021 b suche, FRIEDA23 Kunst- und Medienhaus, Rostock
2021-22 Kunst am Bau, Universitätsrechenzentrum, Greifswald
2021 public art, öffentlicher Raum, Düsseldorf
2020 Repetition & Rhythmus, Garage (Caspar-David-Friedrich-Institut), Greifswald
2020 Bild & Abbild, Caspar-David-Friedrich-Institut, Greifswald
2019 INSOMNALE, Caspar-David-Friedrich-Institut, Greifswald
2019 Projektwoche, Künstlergut, Loitz
2018 The Traveling Gallery, START - Cultural Change, ein Programm der Robert Bosch Stiftung, in Kooperation mit dem Goethe-Institut Thessaloniki und der Bundesvereinigung Soziokultureller Zentren e. V., unterstützt durch dieJohn S.Latsis Public Benefit Foundation und die Bodossaki Foundation, Greifswald, Anklam und Bröllin
2018 ...und immer wieder Fallada, Rathaus, Greifswald
Contact & Website of the artist
Website: https://www.johannaherrmann.de/
Instagram: https://www.instagram.com/jhhermy/